UX | guardian | Air Force | Technology | decison logic | carson
Designing a great user experience is more than just updating your website or application's user interface — it encompasses everything your users interact with. In addition, every dollar invested in UX results in a return of $100 — generating an ROI of 9,900%.
In a world where customer-centric companies are 60% more profitable, it pays (literally) to prioritize UX.
Understanding why user experience is important will have a positive impact on your business — the same as it did for these four companies.
Carson Group
As the financial industry continues to try to capture a younger audience, Carson Group approached us with the task of revamping their platform with a new and updated user dashboard that would appeal to a younger generation. However, in collaborating with Carson Group to delve deeper into the problem, we discovered there was a significant amount of data that would be incredibly useful to clients, advisors, and other shareholders if fully utilized while still fulfilling the design requirements of their younger personas. The new goal became to develop a new user experience that improved accessibility to data that was already being analyzed behind the scenes, encourage advisors to further engage with systems, and combine multiple unique software programs and interfaces into one central view.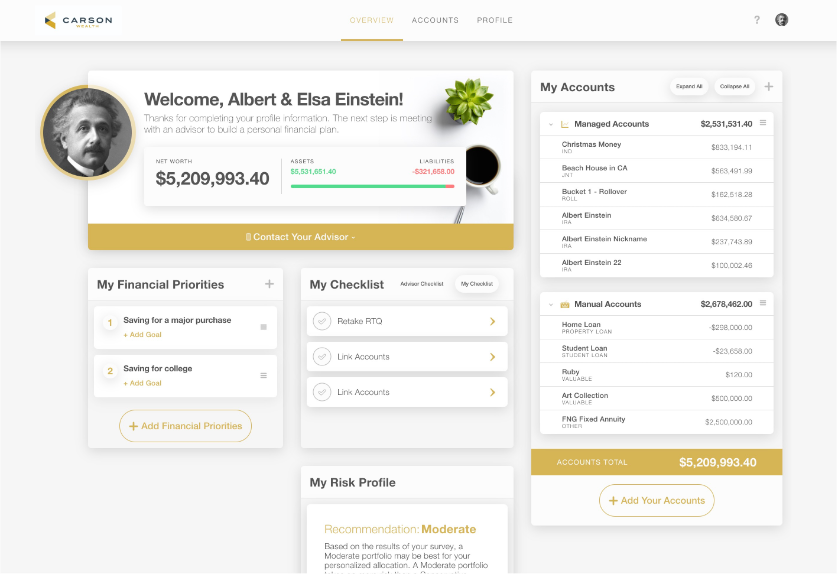 The result was a very promising initial rollout. While the new user experience platform has yet to be released to the entire user base, the first two weeks of trials showed Carson Group adoption rates between 50-75%: a massive increase when compared to the 10-13% that the old platform brought in. This new platform also lays the foundation for Carson advisors to be able to use predictive analytics to offer solutions based on customer behavior. As a result, advisors can save time, work with more customers, and ultimately position Carson Group for scalable growth.
Decision Logic
As a company that provides their customers with diverse restaurant technology and analytics software, Decision Logic was positioned to help restaurant owners make necessary business calls during the ongoing pandemic. One of their applications called the Digital Manager provides restaurant operators a view of all their active locations. Within this view, they can see the performance metrics for each location and decide whether the location needs additional assistance, if there's a problem with workflow, or if the location is generally underperforming. The app provides real-time analytics of sales and labor data from daily, weekly, or yearly views, making it easy for restaurant operators to find out why their locations are succeeding or underperforming and make informed business decisions.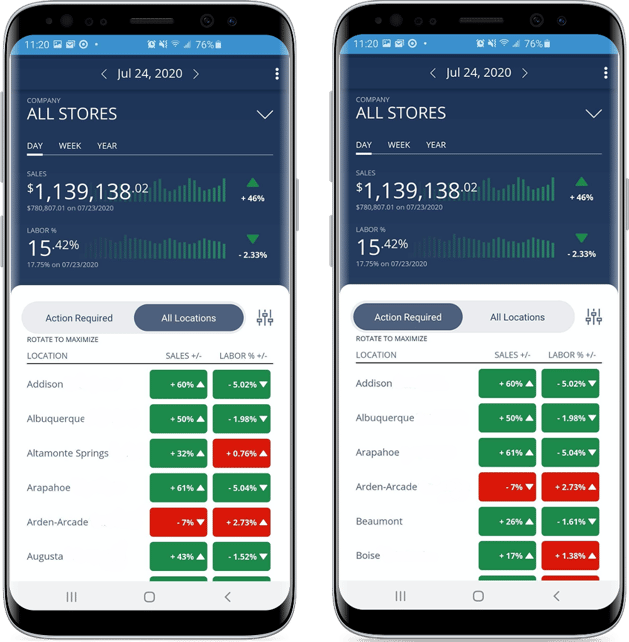 Along with the Digital Manager, Decision Logic created a resource page for business owners and operators to share and submit useful tips to aid them in the current landscape. Examples include how to apply for small business relief, how to shift to a delivery model, and how to compete with third-party delivery services.
By providing resources that were designed to help business owners during a time that's been very difficult on the restaurant industry, customers feel valued, as well as set up for future success.
U.S. Air Force and Space Force Recruiting: Aim High
Over 50% of 17 to 21-year-olds in the United States do not have a parent or relative who was in the military. Because of this, they usually have limited knowledge of the military and its offerings. There are 20 million 17 to 21-year-olds in the United States, but only 4.4 million are eligible to join the military and only 465,000 are compelled to join.
The Aim High App was created to draw in non-traditional recruits while expanding non-traditional networking. The app opens communication channels using rich "social-like" content to communicate with families and friends of recruits in ways that create a positive network, leading to recruiting success and career retention.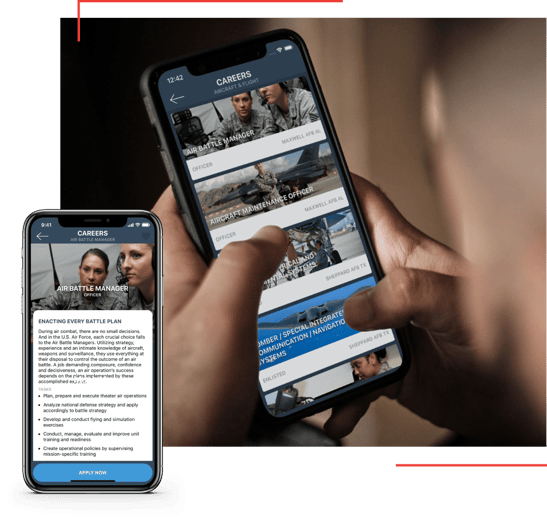 This new user experience for potential recruits and their families creates a significant increase in civilian exposure to the opportunities the Air Force provides, a more efficient line of communication for recruiters, and an increase in quality candidates for the Air Force.
Department of Defense: Guardian
When the Department of Defense came to Aviture, their Remotely Piloted Aircraft (RPA) application consisted of multiple tables of data and an overly complex user interface. This created problems for pilots and mission managers who needed a way to communicate and process data quickly in order to make high-stakes decisions. Agile innovation and procedural change in the government sector can also be difficult to enact with a high level of security and a long list of requirements to meet.
With Aviture's many engineers with military backgrounds, we were in a great position to assist in developing a new solution that was efficiency- focused while still sticking to government guidelines. The Department of Defense was working with several different systems which, if integrated and made user-friendly, could greatly improve mission efficiency and even create new opportunities.
Over the past seven years, the Aviture team has created an entirely new user experience that integrates with over 20 different government systems and sources. User experience engineers were able to evaluate the nuances of the RPA pilots' environment during system use, which translated into an interface that brought forward critical information as needed. Aviture combined a web browser-based environment with a modern, open architecture design to provide the necessary situational awareness data to the user in a timely and secure manner that encapsulated their workflows.

Recently named "Guardian," the resulting software is a near-real time, geospatial application that displays data from multiple streaming sources. The application even allows users to create an operational picture that can be used as a singular display for planning, operations, and intelligence information. The application has gone on to be used in rescue efforts for Hurricane Harvey and the California wildfires and to provide security for the Boston Marathon and the Super Bowl.
Why User Experience Is Important for Your Company
Ease of use, design, capability, and the hospitality of your company or organization all play a part in making you stand out from the competition. When a potential client is shopping around for a solution to their problem, the business which left a lasting impact and provided a memorable experience is going to end up being more desirable. The same can be said about maintaining clients as well — a bad user experience can and does lead to a high turnover rate.
If your business is having a hard time connecting with or keeping customers, it might be time to invest in improving your user experience.
---
At Aviture, our mission and belief is that software doesn't mean anything unless it solves a problem, so we create technology to enable users, open possibilities, and create meaningful business impact.

Innovation built on intent and powered by collaboration can take us beyond any obstacle. To get in touch with us about launching your next revolutionary tech adventure, contact us today.