Application | Aviture | Scaling | UX | Technology
With a younger generation quickly entering the financial market alongside older generations, it is becoming more and more important that a financial institution can capture clients from both demographics. Systems need to be updated to remain appealing to current design standards, but they also cannot alienate any one client group either. As new technology is introduced across the industry, the bottom line keeps getting pushed. If your business cannot adapt, it can seriously damage a competitive edge.
Carson Group, a financial services firm in Omaha, NE, formed a relationship with Aviture where Aviture would help assist in creating a new customer dashboard that would be appealing to a younger generation. What originally started out as a user experience and interface overhaul ended up becoming much more than expected - leading to the creation of a new tool that would allow Carson Group the ability to further scale their business and earn new, high value clients.
Problem and Discovery
The original idea behind improving their platform was to develop a user experience application that would be an update of the user interface and dashboard to encourage engagement, particularly with younger generations. However, as more work was done during the investigation and discovery phase of planning and development we made a discovery that had a ton of potential.
Carson Group offers a variety of services, but one of their biggest is offering decision support and intelligence to their customers. This service requires a significant amount of data and also was being thoroughly analyzed as part of the service already. The data that was already collected could then be used to develop a new interface that specifically meets the needs of Carson's target customer personas, while continuing to expand their service and capability offerings - going above and beyond the original ask.
Creating a Data-Driven Interface
Once the pivot was made, the first step was to interview the user personas, including external customers and internal stakeholders outlined by Carson, to better understand the problems and pain points they were suffering from. These interviews helped identify not only potential solutions but also the wide range of user types and user needs – from perceived experts to those with little to no financial understanding. We could then build a solution that covers this wide spectrum.
One of the biggest goals is to create a data lake that stores data in its native format, allowing Carson an opportunity to better act upon their intel and further become a process and data-driven organization. The components are in place, but implementation is an ongoing process as part of the long-term data strategy. With access to the original data and the context with which it was provided, both Carson and Aviture can better understand user behavior and use that information to innovate.
The Results are In
While the platform hasn't been completely rolled out to all of Carson's clients yet, In the two weeks following migration from the old platform to the new client experience platform for some users, Carson saw adoption numbers hovering around 50-75%. Compared to the 10-13% adoption rate on the old platform, that is a 285% to 650% increase. With the new platform in users' hands, Carson saw new clients including one with $68 million in assets.

And now, with newly organized data, Carson advisors can use predictive analytics to anticipate customer behavior and offer preemptive solutions. This saves time, which allows advisors to work with a greater number of customers, while positioning Carson for scalable growth.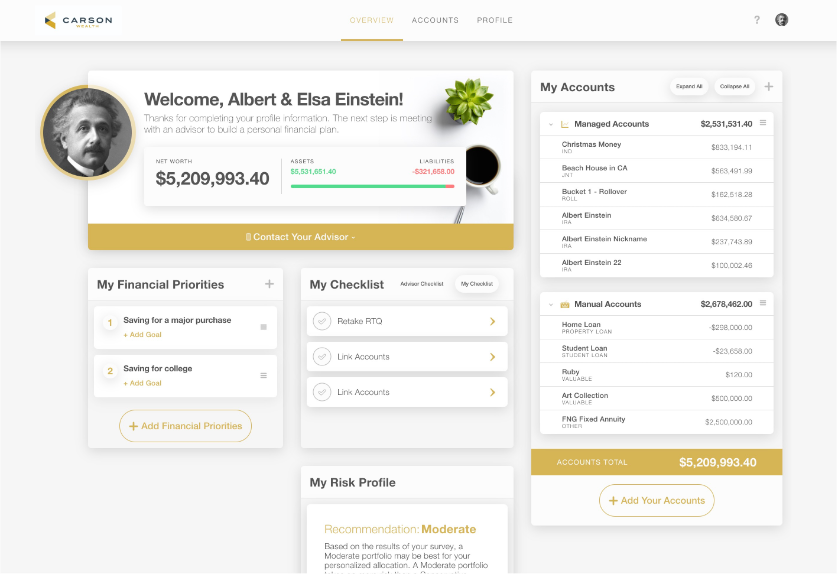 What's more, Carson Group members are actively submitting feedback and suggestions, and Aviture continues to work with Carson to deliver customer-focused tools. This culture of innovation and continuous delivery will help Carson compete on a new level, with greater capacity and opportunity for growth and expansion.
Brandon Suponchick, a Solutions Architect on the project said:
"One of the things I enjoyed the most about working with Carson Group was that we were developing solutions for which many of our team members saw themselves as potential users. This allowed us to approach every conversation from a very empathetic perspective, which I believe was a critical component to the success of the product lines we've launched together over the past few years with Carson."
After this success, Carson asked Aviture to support automating processes for onboarding new clients and building client-specific game plans. Through this partnership, Aviture has helped Carson cultivate a culture of innovation and continuous software delivery.
---
At Aviture, our mission and belief is that software doesn't mean anything unless it solves a problem, so we create technology to enable users, open possibilities, and create meaningful business impact.

Innovation built on intent and powered by collaboration can take us beyond any obstacle.
To get in touch with us about launching your next revolutionary tech adventure, contact us today.