Events | webinar | Difference Makers | thought leadership | LifeLoop
Welcome to Difference Makers, a webinar series focusing on spotlighting people and organizations driving a culture of innovation across the country.
In this webinar, Aviture's own Steve Miller, Director of Government Solutions, chats with Amy Johnson, Co-Founder and CEO of LifeLoop, about how they keep senior living residents better connected to their communities, their families, and the world around them.
Catch some of the highlights from our conversation with Amy, or watch the full webinar, below.
Webinar Highlights
What is LifeLoop?
Amy Johnson, LifeLoop:
It's a subscription-based SaaS platform that we sell to senior living communities, and that can be across all levels of care — from skilled nursing to independent living. We have users in all of those levels of care. They purchase the product; why they purchase depends on kind of the level of care and the problem they're solving. But we do things that range from all their activity calendars to their engagement tracking, to their digital signage, transportation maintenance — we just revamped our communication platform — so emergency broadcast type stuff. Then they determine if they engage family.
Once the family is connected, the family can log in and see what their loved one went to, didn't go to. Photo sharing is involved on all areas. They can get the announcements, communication, and the resident can also log in. And so, you know, independent living, assisted living, you know — skilled too — residents can log in, it just depends on their ability and their interest in technology. It becomes that platform where it creates that connection between all parties. But the actual customers, the community, and then the family, I would say is our secondary customer.
On the History of LifeLoop
Steve Miller, Aviture:
To get us started, do you want to share a little bit about the background of LifeLoop? How you got started?
Amy Johnson, LifeLoop:
Yeah, absolutely. Well, thanks for having me on. I'm excited to do this. And it's good to see you! Yeah, I can give kind of a little history of the company and how it all came about.
So it was really initially born from a personal situation that Kent, [who] was also a co-founder and my husband, had with his grandma. His grandma was in a senior living community, and we really felt a gap in that communication with the staff but also with her and our other family members. So we thought, "oh, we'll just — very naively we thought — we'll just create an app for families." And so a fun fact about the co-founding team is Kent and I, and Phil — and Kent actually, you know, works full-time elsewhere, he just kind of got it going and Phil and I took it from there — but none of us are from senior living and none of us have a technology background. So it was a very hilarious idea that we would just create this family app.
Steve Miller, Aviture:
When about was that?
Amy Johnson, LifeLoop:
That was in 2013. When Kent and Phil really were talking about it. And at that time, I was just kind of listening and on the side. We had had our second child at that time, so I was just, you know, "okay, let's see, what happens here" — it was just a project, right? So at that point, we kind of researched doing some stuff freelance — a couple freelancers on the software side, and we realized we were in way over our head. But we also realized, too, that we really didn't know what we were going to build or how we were going to build it. Not only did we not know how to build software, we didn't know what we'd put in the software if we built it.
That's when we sat down with Dial Retirement Communities and asked the president, Ted Lowndes, if this was a problem in senior living, and he said, "Yeah, it's a large problem." Again, we were just really focused on the family side of things. And so he, at that point, said, "If you guys build something like this, I'll agree to be your first customer."
So we had a commitment from somebody that was willing to use a product we didn't have. That's really when I got involved and went into communities to figure out, "Okay, why doesn't something like this exist?" Really, at that point, we realized the problem was a lot bigger of a problem. Yes, there's a gap in communication with families, but there's just a larger gap on the operation side for communities to gather this information and have efficiencies, and so we really focused building kind of all three views, which we've expanded on significantly.
On the LifeLoop and Aviture Partnership
Amy Johnson, LifeLoop:
So really, to the end of 2013, all of 2014, we were focused on applying for a grant, joining Aviture in the garage, creating what the MVP was. And then we were at Aviture until probably... That would have been end of 2016. During those years were some crucial point: our first clients, our first feedback, me selling something that doesn't exist. And at the time, it was Wayne having to figure it out. A lot of really cool things were developed during those first two and a half/three years when we didn't even have any clients or revenue, really. I mean, we had one client. So it's crazy, though, how much we learned in that foundation and those early years.
Thank you, Amy!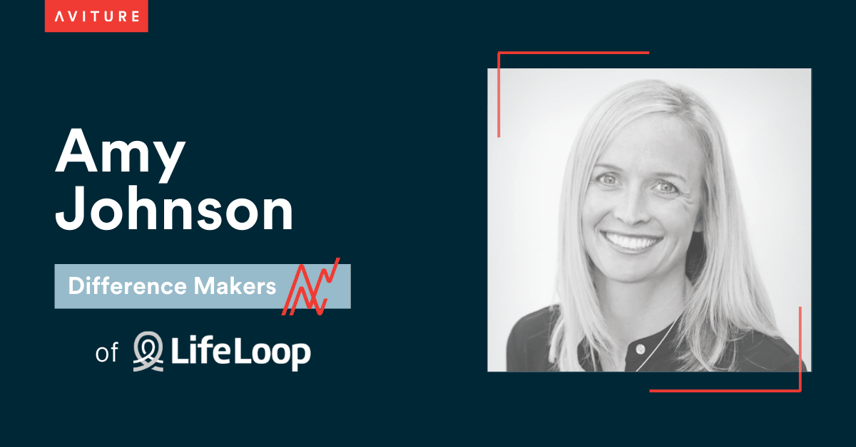 Head here or click the above image to watch the webinar in full.
Want to Be a Difference Maker?
We partner with open-minded people eager to make a difference and see their organization transform into something beyond what they believed was possible.
If you're ready to take the next step with your technology and discover what's possible, let's start talking strategy. We'll get to know your organization, your goals, and your existing tech infrastructure before mapping the journey to your moonshot so you can reach your greatest potential.