Your data is one of your most strategic, valuable assets.
High-quality, trustworthy data improves the customer experience, increases operational efficiency, and empowers employees to make better decisions for your business. On the flipside, poorly managed data seeds distrust, hampers your ability to make actionable insights, and costs companies approximately 15% to 25% in revenue.
Unfortunately, the latter situation is far more common. Despite increasing demand, poorly managed data is the current reality for many companies due to difficulty understanding its value, the time and effort it takes to manage it effectively, and prioritization of other needs.
According to a global survey conducted by Experian, most organizations struggle in two key areas: getting access to the right data at the right time and trusting that their data is accurate. In fact, they found that 95% of organizations see negative impact from poor data quality, which stems from the following contributors, ranked in order of likelihood:
50% human error

39% too many data sources

31% lack of cross-department communication

30% inadequate data strategy

26% lack of current, relevant technology
How do you tackle the torrent of data while managing people, processes, risk and accuracy to ultimately impact your bottom line?
Build a data strategy.
The 5 Crucial Elements of a Data Strategy
A data strategy is exactly what it sounds like: a framework for how to effectively manage and leverage your data to impact your business.
To get started, look at the following 5 elements — no matter your company size or technical maturity, each is crucial in developing a scalable data strategy:
Business Strategy
A common misconception about building a data strategy or framework is that it's a purely technical exercise. In truth, it can drive important organizational change when approached with the needs and long-term vision of your company at its core.
Marry your business goals with your data strategy roadmap to define requirements across the company, including what improvements you'd like to make, questions you want answered, and ultimately, the KPIs to satisfy both. With that approach, everyone is on the same page for what you're trying to accomplish.
Data Sourcing and Architecture
After identifying the business initiatives driving your data strategy, your next step is taking stock of what you currently have as well as what might still be missing. This includes identifying all your current data sources, noting any gaps or needs, and settling on the best storage solution for your business.
Storing, accessing, and connecting your data and applications must be carefully considered based on your business needs — we recommend focusing on a solution that can improve resiliency, scalability, performance, and overall flexibility.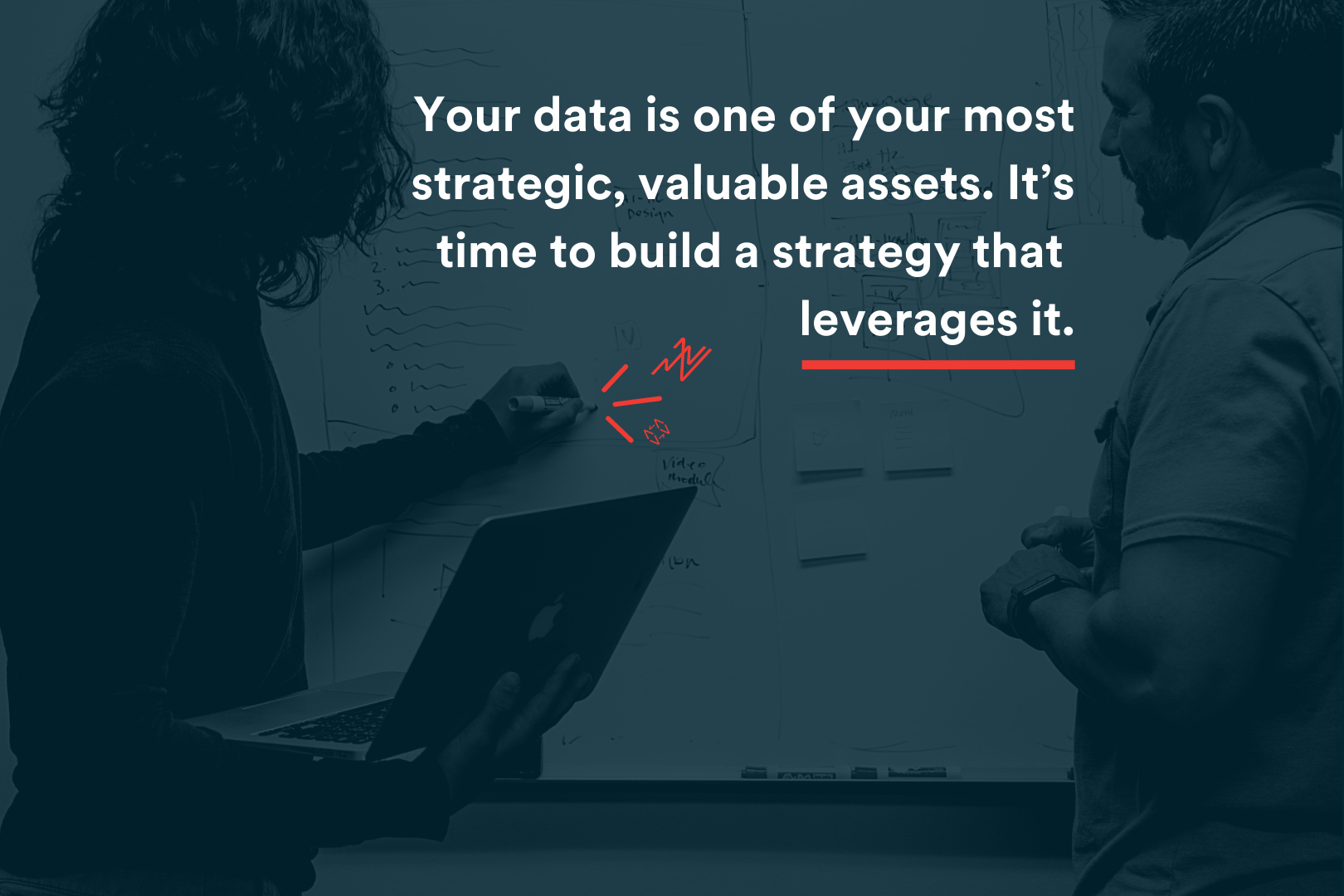 People, Processes, and Data Governance
Let's circle back to the global study we referenced earlier. Remember the top contributor to why organizations see negative impact from poor data quality?
Human error. At a whopping 50% of companies.
Like any innovation, building a data strategy doesn't start (or stop) with technology — it starts with the people implementing it. That's why it's so important to consider the people and processes creating, sharing, and governing data across your organization. Doing so will help manage tech debt, buy down risk, and pave the path for long-term sustainability.
Translating Data Into Insights
Data is only as powerful as its ability to be understood and utilized. How you choose to visualize data influences its meaning, comprehension, and how people gain value from it, resulting in better decision-making.
Your goal when transforming data into actionable insights for your organization should be to tell an accurate story in the clearest, most consumable way — whether the output of that is a report, integrating entire systems or creating a comprehensive business dashboard. The effort will go a long way toward implementation, adoption (more on that in a moment) and the overall impact of your data strategy.
Implementation and Adoption
The last element of your data strategy is the implementation plan. You've taken the time to plot everything you need to get where you want to be vs. where you are today. The final step is prioritizing all the activities necessary to scale and promoting user adoption.
Prioritize by feasibility and business impact to target quick wins vs. longer-term initiatives. As with any agile approach, the goal should be to provide incremental value through regular feedback and iterative innovation.
Unlock the Power of Your Data
You have the data. Now it's time to do something meaningful with it. Whether you're in need of an effective storage solution or want to completely modernize your data architecture, we can help. We have experience thoughtfully mapping a data strategy based on your unique organizational needs.