Events | webinar | Difference Makers | ReRuns | e-commerce | nonprofit | thought leadership
Welcome to Difference Makers, a webinar series focusing on spotlighting people and organizations driving a culture of innovation across the country.
In this webinar, Aviture's own Steve Miller, Director of Government Solutions, chats with Tammi Bosiljevac, Managing Director of ReRuns, about how they're changing the consignment store game to benefit charities chosen by consumers.
Catch some of the highlights from our conversation with Tammi, or watch the full webinar, below.
Webinar Highlights
What is ReRuns?
Tammi Bosiljevac, ReRuns:
ReRuns is the largest nonprofit women and children's consignment sale; a bi-annual sale. So, twice a year we have a sale, and with those sales we have about 900 consignors that bring their items into our brick-and-mortar [store]. And they sell their items within the ReRuns building within 10 to 14 days based on the year. We take 35% from the consignment and then all of that profit goes back to different charities in our community, nationally and internationally.
In addition, ReRuns is run with 400 volunteers. We only have three paid employees, and everything else is volunteer-based. When we started actually keeping track, we found that that we've actually given about $4 million away to charity.
Steve Miller, Aviture
$4 million dollars — that's a heck of a legacy and footprint. Way to go!
On the History of ReRuns
Tammi Bosiljevac, ReRuns
Anna Sortino is our founder. Anna started in the basement of her home, with just this little vision of swapping clothes. She had three little kids swapping clothes, so she would hang stuff pin it, price it and help women.
So, then the line grew around the block and neighbors were complaining so she had to move out. She got a rented space, twice a year in this little building. And then, she grew, grew, grew and she moved to another space until, about five years in, her husband Mike was diagnosed with leukemia, and he had a 5% chance of survival.
So, Mike got rid of all of his companies, and Anna gave ReRuns to their church and said, you know, take this, it will be a great fundraiser, you can do a lot of good with it.
While they took it on, Anna focused on her husband, praying, praying, praying; rallied her friends to pray for Mike, and he beat it. He beat leukemia after he was in the hospital for nine months.

Steve Miller, Aviture
Wow!

Tammi Bosiljevac, ReRuns
I always get so teary about it, because I just I love them like my parents. I love these people; they're amazing people.
So, then the church came down to her [Anna] a couple of months later and said, 'Listen, this is out of control. We are not in the business of secondhand clothing. We don't want this anymore. You've got to take it back.' So, Anna was like, 'Fantastic!'
So, she applied for her nonprofit status. She got that and decided to do good with the rest of her life and just to give back because [she felt] God spared her husband's life. So since then, she has been doing so much good with just secondhand clothing. It's been amazing.

Steve Miller, Aviture
That is an amazing story. Appreciate you sharing it with us.
On the ReRuns and Aviture Partnership
Tammi Bosiljevac, ReRuns
We started recognizing about three years ago that we were definitely losing consignors, and even shoppers. We wanted to get in the game and be able to make ReRuns a household name for everybody in the nation and bring ReRuns into everybody's home and do good for other communities.
And we knew the only way we could do that was with creating this e-commerce site. We knew we needed the technology (and someone way smarter than us) to build the tools for people to actually bring us into their home and be part of our good by being able to create that e-commerce [site], that peer-to-peer marketplace, so people can actually sell their items and be part of the ReRuns community by doing good.
I think the technology alone… It's totally beyond me how you guys did it, but I definitely think it is going to give our community the ability to do more good and then other people to be able to join in to be part of our good and join our community.
Thank you, Tammi!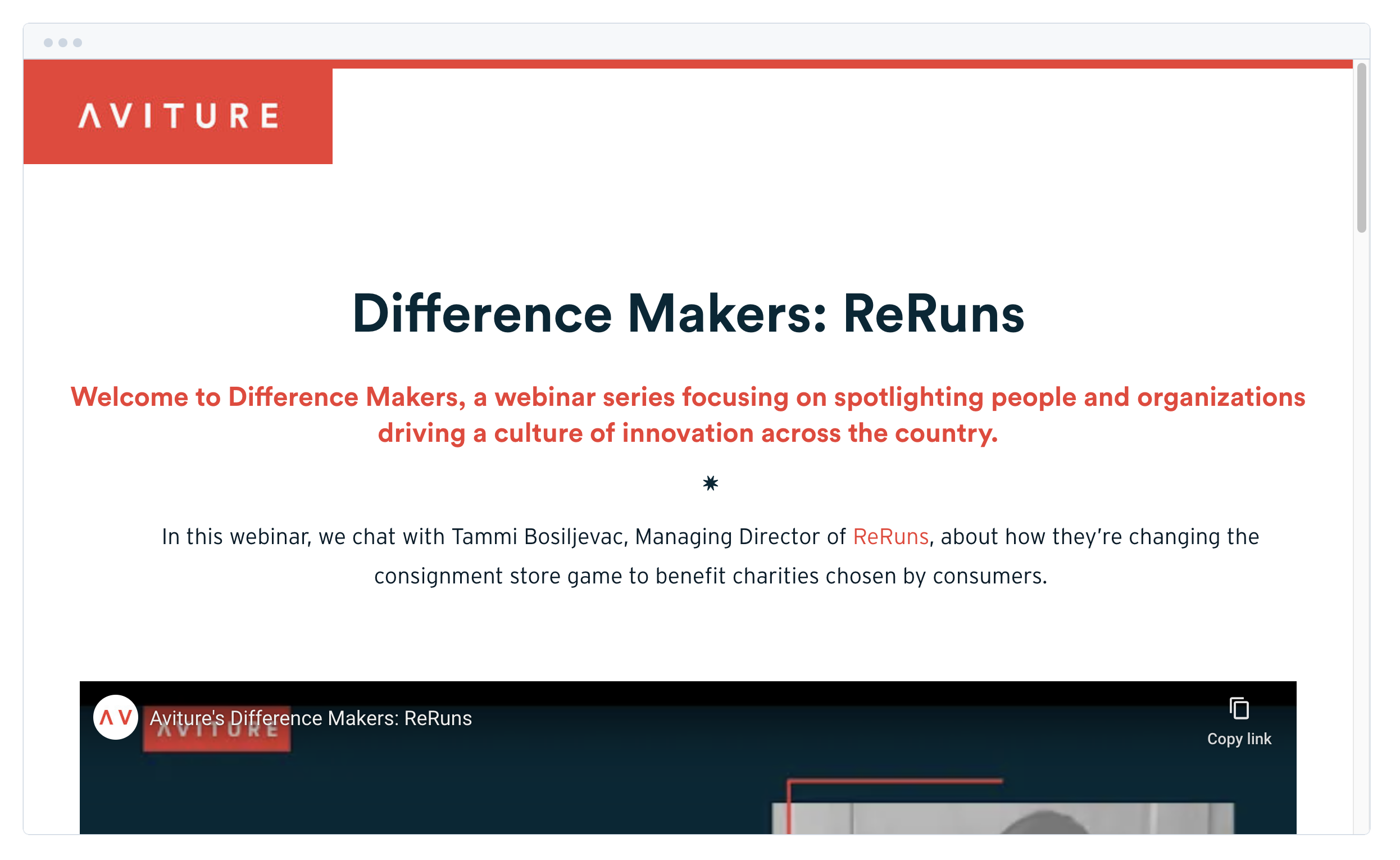 Head here or click the above preview image to watch the webinar in full.
Want to Be a Difference Maker?
We partner with open-minded people eager to make a difference and see their organization transform into something beyond what they believed was possible.
If you're ready to take the next step with your technology and discover what's possible, let's start talking strategy. We'll get to know your organization, your goals, and your existing tech infrastructure before mapping the journey to your moonshot so you can reach your greatest potential.