Empower. Engage. Grow. Three things we aspire to do every day at Aviture. So, when I was introduced to Girls Inc. and their mission to inspire and engage young women to create a vision for a bright, healthy future, I knew Aviture could provide a perfect opportunity for them to explore their potential in technology.
First, a little about Girls Inc. Part of a national organization, the local Omaha non-profit serves hundreds of girls ages 5 through 18 every day. The after-school and summer programming keeps students active and learning. One newer initiative is a 5-year STEM-based program, Girls Inc. Eureka! Program, with the goal to empower young women from grades 8-12 to help encourage education and shape a positive future. Everyone in the program has an externship during their junior year to explore career options in their areas of interest, workforce development, financial literacy, and college preparedness.
So, how did I get involved? My personal interest in the program largely stems from my experiences (or lack of them) growing up. My interaction with technology and computers was limited, so I know first-hand how intimidating it can be to get started. Now that I am in a place in my career where I can help, I want to do what I can to encourage kids to overcome that challenge and see the power of technology early on to positively influence their education and career choices.
After meeting with Girls Inc. and recruiting a few coworkers to join me in the effort, we promoted the Eureka program at Aviture. The team here jumped on board and we started planning ways to show the young women what software development was all about.
Welcome Asia and Taylor. Aviture was fortunate to host Asia and Taylor during their externship experiences. Both young women knew they wanted to work toward a career in software engineering, so for about a month, we worked with them daily to learn more about the software engineering field, unique career paths, and a few common tools and techniques.
It wasn't just another lecture for Asia and Taylor. We got the them working hands-on, downloading and installing git, NPM, and VisualStudio, to understand what purpose each tool serves. They were introduced to HTML, CSS, and JavaScript, and taught how each one is used in the development of complex web pages. I could see their confidence grow in the short time they were with us.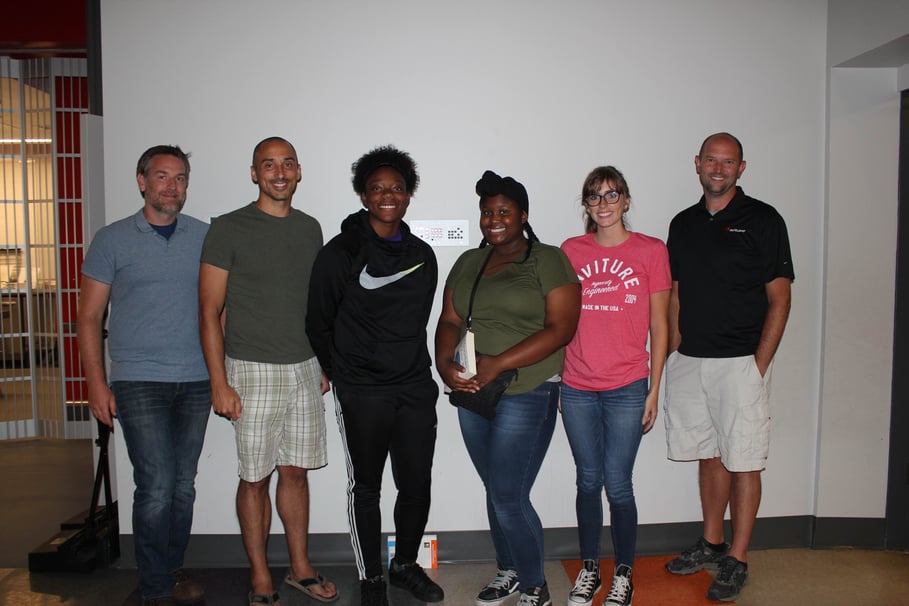 From left: Jerry Koske, Jeremy Glasser, Asia Tyler, Taylor Byrd, Jacquelyn Peck, Matt Mixan
As it turns out, Asia and Taylor weren't the only ones doing the learning. This opportunity provided the Aviture team a new perspective on the work we do, how we do it, and why we do what we do every day. In fact, this partnership inspired the team here to take what we learned from the Girls Inc. experience and formalize the Aviture Internship Program.
It is through programs and partnerships like Girls Inc. and Aspire-STEM™ that we can engage with our community and inspire the next generation of developers. It feels good to make a difference, and I know this is just the beginning.
Header image: From left: Kathy Andersen, Taylor Byrd, Asia Tyler, Jeremy Glasser