Garage Speaker Series | Aviture | News | Events
How do already great developers become even better developers? They spend time learning with other talented developers, of course! And there's no better place to soak up the latest industry tools, trends, and techniques than at the Kansas City Developer Conference (KCDC).
The 9th annual KCDC conference, held August 2-4, featured hundreds of sessions and workshops on all aspects of software development and agile project management. As a 2017 KCDC sponsor, Aviture was represented in person by eight talented software developers and project managers. With five of our attendees ( Kathy Andersen, Art Doler, Charlie Koster, Nate Taylor, and Nick Tuck) giving seven talks during the event, it was a busy few days for the crew. After all, the work didn't stop after their talks were done; there was still a lot to learn.
From neural networks and machine learning, to functional programming and visualization, there was no shortage of topics, perspectives, and approaches. We asked Aviture attendees which sessions stuck with them, and their highlights (not including each other's talks) are below:
As it turns out, side conversations (or the 'hallway track' as Nate Taylor calls it) at conferences can be just as beneficial as the talks themselves. The most unexpected but valuable learning comes from the back-and-forth between attendees with various specialties and backgrounds. All of the Aviture attendees enjoyed the KCDC experience and felt they walk away smarter, more engaged and more connected with the tech community.
A few Aviture speakers got to take home more than memories of the conference. David Neal captured the personalities in drawings of both Nate Taylor and Art Doler to use in future presentations. Art was also the lucky recipient of an amazing work of art from One Squiggly Line that illustrated his talk.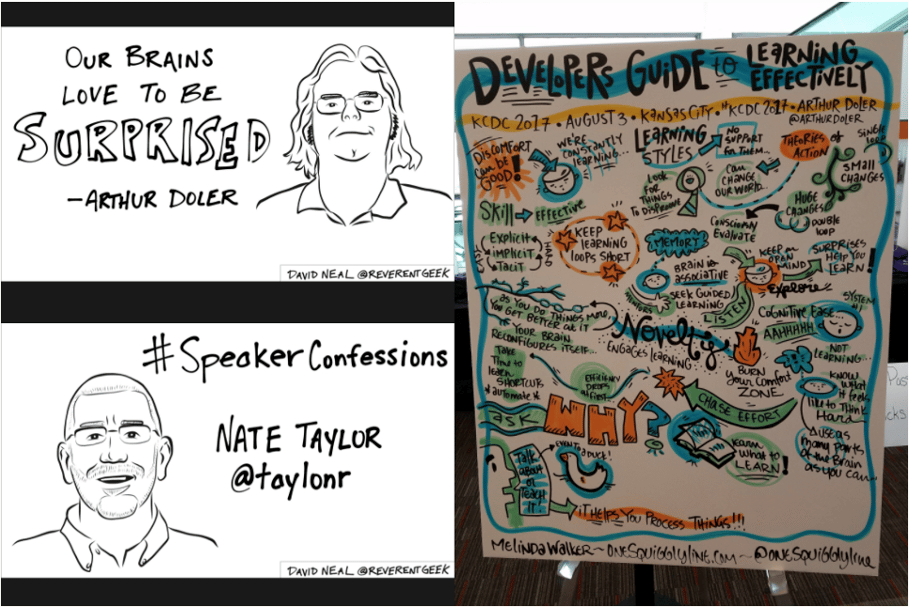 As the KCDC conference continues to grow, it provides opportunities to connect with thousands of developers, project managers, and technology leaders from across the Midwest. The Aviture team wouldn't miss the chance to learn from other experts, to gain the insight needed to stay ahead of emerging trends, and to share our own knowledge along the way. We look forward to KCDC in 2018!