Great company culture isn't built overnight. It's the values, beliefs and spirit of your organization, and it takes effort and experimentation to grow. We're proud of the environment we've cultivated at Aviture, but we are always striving for improvement and growth. Like many workplaces today, we are constantly trying to answer this question: How can we create culture that transcends the barrier of space between headquarters (Omaha, NE) and our remote employees (Austin, Chicago, DC Metro, Hartford, Las Vegas, Portland, and Phoenix)?
Along with utilizing tools to include our remote employees in meetings and team correspondence, we like to fly them in quarterly to celebrate and collaborate with their fellow Aviturians. We call it Castaway Week, and it's always a hit! We've been doing this for several years now and have found three mantras to be especially impactful during this week-long opportunity to cultivate a company united through learning, growing and playing together.

Learn together
Nothing brings a team together like taking a trip into the unknown, especially a team of engineers. During a Castaway week last year, the stars aligned and we were able to have our biannual Codefest the same week the crew was in town. The divine didn't deliberately schedule it this way though, we did, and the results were pretty stellar.
Codefest is all about exploring and executing trends in technology to real-world applications. Teams get to develop solutions that include elements of IoT, predictive analytics and AI in a safe environment over the course of 2 days. By including our remote employees in this, we also see a substantial social benefit from giving people who don't typically work together a sandbox to practice and perfect their craft. Teams who are typically siloed are able to mix and match so that interactions and brainstorming happen in unique groups, which increases opportunities for innovation and impact. At the end of Codefest, the innovations developed are evaluated to determine if they should continue on. There is immense value in giving our teams a place to push boundaries, fail and persevere.

Grow together
Strategy sessions are part of our process year-round and always include our remote employees through video conference. Though not inhibited by this communication method, there is something to be said for face-to-face ideation. That's why we put an emphasis on these workshop-style team collaborations during Castaway Week. There is a lot of energy in the office when everyone is in town. Double that, and you get a feel for the electric atmosphere surrounding a team reunited and ready to create. We intentionally do a lot of these brainstorming sessions during Castaway Week. It allows us to harness that energy and transform it into creativity. We're also left with a renewed passion for a part of our process that can start to feel less brainstorm-y and more brain beat-y.
Christine Milliken, one of our remote employees said it best: "The Castaway Weeks have allowed me to look beyond my current team, understanding and relating challenges other teams face, working together to learn and grow as a company. I have seen the morale events pull us all out of our comfort zones, forming long lasting relationships that may not have otherwise occurred. Whether I am in town for a Castaway Week or project business, I know I am coming into a welcoming environment."

Play together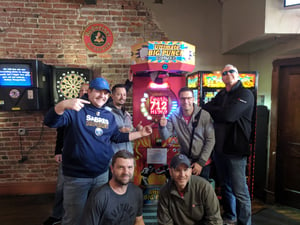 Every Castaway Week ends with a party. This past spring, we put together a giant scavenger hunt encompassing one of our favorite Omaha neighborhoods, Benson. Teams planked in the street, took selfies with street signs, found clues in popcorn machines and more. We got to wrap up the day with Pitch Pizza and playing arcade games in Beercade's basement. We've also rented sumo suits, set up game stations and catered in a mobile wood-fire pizza oven, and even took a trip to Vala's.
The activity varies each time, but the goal is always fun. Pulling away from work for a bit, for the simple sake of fun, puts our whole company in a better position to succeed.
Castaway Week is not just for the gain of our remote workers - it benefits the entire office. A team that is able to push boundaries, gain knowledge and have fun together is truly one that will succeed. We aim to keep our "castaways" feeling connected, happy and included, and bringing them back to homebase a few times a year is one of the best ways we've been able to do so.