Cloud infrastructure | Scaling in the Cloud | Technology
While the cloud industry continues to mature, it is becoming more accessible to businesses in every industry - as well as more necessary. When the world was hit with the pandemic earlier this year, changes were needed to almost every business sector with how data was accessed. Cloud solutions were paramount to making those changes happen quickly and effectively and will continue to be essential into the future.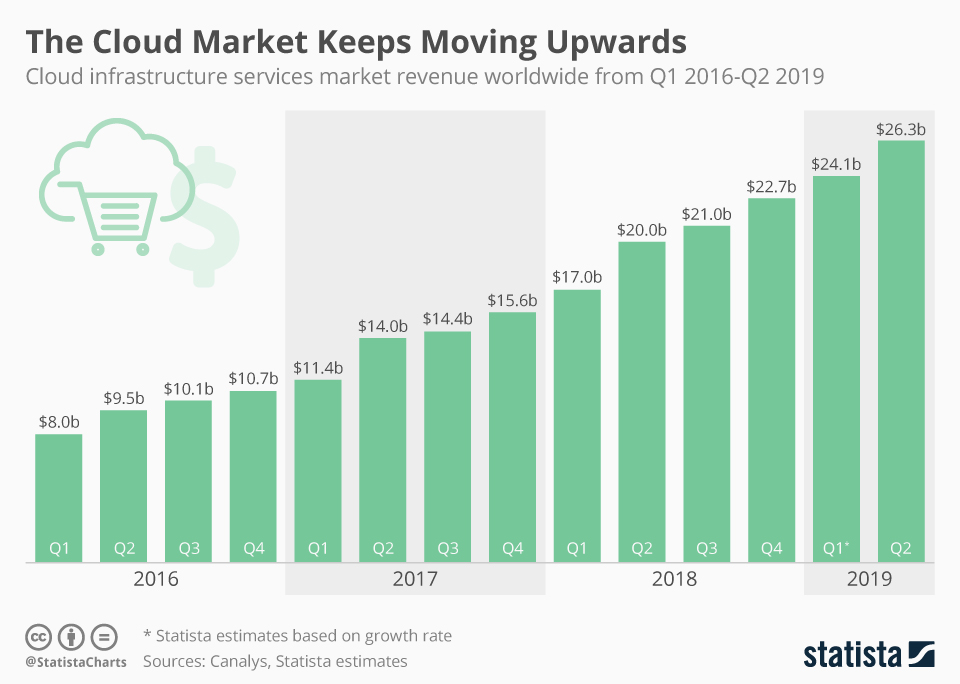 In just three years from 2016 to 2019, the cloud market has grown from $8 billion to over $26 billion, a 325% increase that isn't showing signs of stopping. In fact, there are signs that 32% of IT budgets could be reserved for the cloud next year.
Cloud-computing is enabling businesses to expand and make their systems more efficient. So how are businesses utilizing the cloud, and how can you apply the rapidly expanding technology to your own business?
Application Development
The cloud is the modern solution for all forms of application development. It offers cross-platform solutions that enable developers to create systems that can be used by multiple devices. The ever expanding libraries of tools and support make building software, a website, and a mobile app using the same data set much easier than alternative solutions.
Combine and Consolidate
If you have outdated systems and multiple platforms you use to operate your business, it can quickly become a nightmare when trying to use any information from one platform in another. With the added benefit of streamlined development, cloud-computing allows for a single well of data and information that systems can pull from anywhere. This makes it much easier to consolidate your systems and update your platforms.
Simple Storage
As your business grows, it becomes necessary for more and more storage for files. The average file size is continuing to grow as well - with video and other media assets reaching all time highs with new, higher resolutions. The large storage capabilities of the cloud are perfect for not only handling large files, but also making them accessible anywhere - even offline. The cost of cloud storage is much lower than on-site storage as it doesn't need dedicated, physical servers and staff dedicated to the management of those systems. Multiple cloud service providers, such as Amazon Web Services (AWS), also offer modular storage that can increase or decrease based off of your company's needs.
Backups and Security
You never know when someone is going to lose a laptop, a hard drive could die, or a line of code gets implemented that breaks a key feature. Having your systems hosted on the cloud can prevent massive data loss by allowing you to create backups not hosted on company software that you can easily roll back to. Cloud systems also have layers of integrated security through encryption and minimize the chance of data leaks by hosting it all in one place.
Artificial Intelligence
By combining neural networks, machine learning, and cloud services as a foundation, artificially intelligent systems can become a reality. Modular storage allows for the ebb and flow of both user data and your own as AI learns and interprets information. With constant availability to data, AI can be built faster and learn faster to drive a better user experience. Some of the most well known AI voice assistants like Siri and Alexa use cloud systems in order to function. From bots that manage your website's chat to smart data analytics interpretation, cloud-computing makes the whole process possible.
Testing
Every project should be tested before launch, but large projects require additional testing and can be cumbersome to test - especially on multiple platforms. Cloud-computing eliminates the need for a full testing infrastructure by allowing you to test on multiple machines, saving time and money in the process. This process also allows you to view analytics from the tests in real time which can save resources for future tests/integrations.
...And So Much More
Overall, these are only a handful of the applications cloud-computing can be used for. It comes as little surprise the cloud industry is growing rapidly as the technology is robust enough to tackle various issues across a business. As the world continues to move more and more to an online environment, the cloud will assist with the change. There is a good chance you already use cloud technology in some way already, whether it is through Google Drive, Outlook, SurveyMonkey, or other digital services. Why not take the next step and see how much more cloud-computing can streamline your business?
---
At Aviture, our mission and belief is that software doesn't mean anything unless it solves a problem, so we create technology to enable users, open possibilities, and create meaningful business impact.

Innovation built on intent and powered by collaboration can take us beyond any obstacle.
To get in touch with us about launching your next revolutionary tech adventure using cloud technology, contact us today.